In face to face fundraising
CAPLL Ltd is an established leader in face-to- face, regular-giving and lottery fundraising. We work in partnership with our charities to secure high quality, committed donors at sector leading attrition levels.
CAPLL Ltd is proud of the fact that our teams are mostly long term experienced career fundraisers. Many have worked on our behalf across various campaigns and often over several years.
Our fundraisers complete a lengthy induction programme and our approach ensures that compliance and professionalism frame every interaction. We understand the importance of connecting the right supporter to the cause, for the long-term.
Our network of support staff and fundraisers are ready to help raise the vital funds needed, for the amazing things you do.

Our Service
Since 2011, CAPLL Ltd have generated in excess of 1 million long-term donors for our charity partners through lottery and regular giving campaigns. A thorough understanding of our charities needs allows us to deliver nationwide and regional campaigns for a wide variety of clients. An emphasis on inspiring quality supporters is at the heart of what we do.
We work in a variety of high footfall venues, including high profile shows. We raise awareness of our charity partners through strongly branded presentations, stands and materials, which promote the charities work.
Charity Partners
At Capll, we are proud to have worked with many leading charities. Here are a few examples.
The team we work with at Capll are approachable and friendly. They are up for new ideas and their results are consistent.
Their professionalism matched with their friendliness makes it a real pleasure to work with them. They work hard to reach targets and are great at communicating with us.

We launched our first campaign with CAPLL in April 2018 when we asked them to recruit both lottery and cause regular givers. Not only did CAPLL exceed our expectations in terms of scale, they went on to recruit the best performing cohort of direct debitters we've ever recruited via face-to-face fundraising at Scope.

As a result of that, we have again invested in campaigns with CAPLL in 2019 recruiting lottery and cause direct debitters.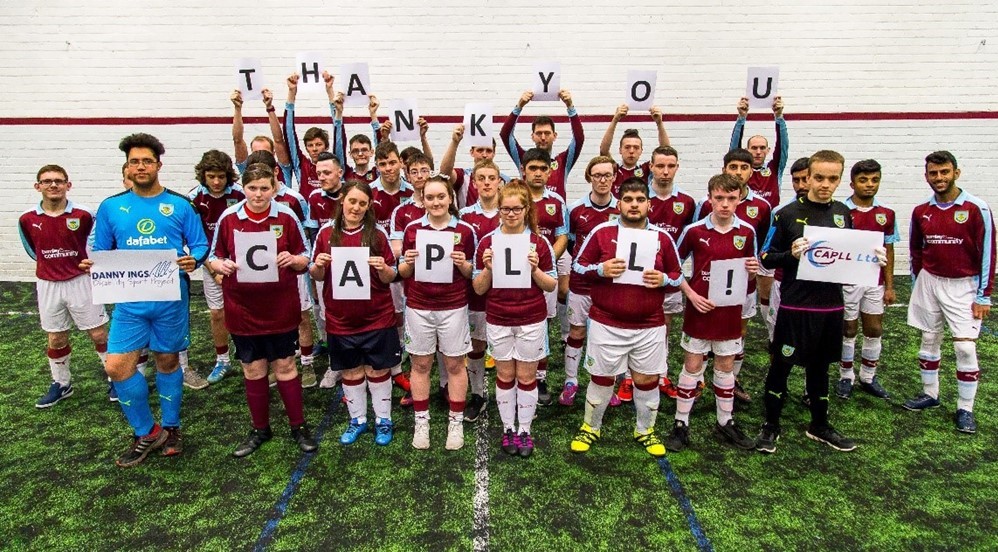 BFCitC Partnership
CAPLL LTD have extended their ongoing commitment to Burnley FC in the Community's pioneering disability sport provision, assuring further support to better and strengthen the local community.
The Danny Ings Disability Sport Project was launched in November 2014, and has since grown at an outstanding speed and had a prodigious impact. Along with grant funding, and support from the Premier League and BT Sport, this astounding project has grown to incorporate provision for remarkable children in and out of school hours, and also offers sessions for adults living with various disabilities, where they can take part in a number of recreational and competitive activities.
CAPLL has proudly contributed £20,000 per year since 2015 to assist Burnley FC in the Community with its development, and creating a safe and thriving establishment for those with disabilities, meaning there is a place for 1,000 participants to grow and create lasting friendships every single week.
Andrew Paul, Managing Director at Capll Ltd said, "As a local business owner I am delighted to be involved in a project that has such a positive impact on our local community."
"The Danny Ings Disbaility Sport Project has grown phenomenally in the last three years, and I'm proud to say I have been able to support it."
"Burnley Football Club has a unique position within our community in having the ability to bring people together and really contribute to daily life, whether that be through success on the field or through community based activities."
"We work closely with the third sector and understand the need for everybody to play their part in supporting good causes, and we at CAPLL are proud to play our part in ensuring our community is thriving."
Burnley FC in the Community Disability Development Officer, Lewis Rimmer said, "It's fantastic to have CAPLL's support as we continue to grow our disability sport provision significantly again as we react to need."
"We have already launched a disability dance centre, which has attracted more young people to take part in sport, and our participation in the Ability Counts League is attracting increased numbers to the adult sessions."
"We are also looking at our impairment specific offer and how we can take this forward as well as supporting Burnley FC by coordinating the Disabled Supporters' Forum."
Ryan Bradley, Business Development Executive at Burnley FC in the Community, also had this to offer, "The donation received from CAPLL LTD is crucial to ensuring our disability sport provision continues to grow and thrive."
"Andrew Paul and CAPLL have been involved from the very start of the project and the partnership is a prime example of how local businesses can work with Burnley FC in the Community to inspire, support and deliver change to the people of Burnley, Pendle and beyond."
For more info on anything else, please visit our Contact Us page.